On the vacant, sun-blasted streets southwest of the Strip, Joe Cervantes sees an America on the decline.
Sporting a fedora and a Jimi Hendrix T-shirt as he walks his chow chow, the 67-year-old retired car salesman grumbles when he passes a neighbor's house with weeds in the rocks. Three cars with no license plates are parked outside.
Asians bought the place in foreclosure and didn't care who they rented to, he says. Next door to him, he adds, low-income black renters tore up the place so badly the tile floors needed to be replaced. At a house around the corner, he says he's noticed a Middle Eastern man always outside talking on his cellphone in a foreign language: Cervantes wonders whether he should call the police.
For Cervantes, life in these sand-blown suburbs has come to look like much that has gone wrong with the rest of the country. The homes are cheap and falling apart, he says, because "illegals" did the work and contractors were able to bribe the building inspectors. Foreclosures swept through the neighborhood and he almost lost his own home in the Great Recession because politicians stopped protecting the interests of regular Americans. He blames the same politicians for letting his factory job back in Wisconsin go to Mexico in 1982.
(Thomas Suh Lauder / Los Angeles Times)
The way Cervantes sees it, the government is a high-stakes card game at which he and most Americans never get a seat. He voted for President Obama but has twice been disappointed. This election, the name he is betting on is emblazoned in gold on the Vegas skyline: Trump.
"The middle class is done in this country. I think we need an outsider like [Donald] Trump to come in and upset the establishment and make them help the middle class," Cervantes says.
In some ways, Cervantes is like many Americans, of different stripes and widely varying locales, who have found themselves unexpectedly drawn to the real estate tycoon. The retiree lost his factory job to the pitfalls of free trade; he gets angry about illegal immigration; he resents having worked his whole life when others got a free ride.
But Trump's talk about building a wall across the entire border and keeping out all Middle Eastern immigrants seems farfetched to Cervantes. He is Latino and counts blacks and Arabs among his close friends. He looks forward to one friend's annual Ramadan feast. And he is disturbed by Trump's belligerent talk about pummeling protesters. Cervantes won't swat a spider he finds in his house — he takes them outside — much less a person.
Nevada has always been a state of people who resist easy categorization — people who moved here, in some cases, to escape the categories they were born with elsewhere. As a lot, Nevada Republicans are less religious, less educated and less bound by tradition. They don't care deeply about issues like abortion or gay marriage. Many own small businesses, often in construction or catering to the gaming industry. They have strong libertarian and anti-establishment streaks, with little tolerance for Washington politics.
Many other Western states have tended to support U.S. Sen. Ted Cruz, a strong social conservative from Texas. But Republicans here are planting a solid flag that says Trump country.
The GOP front-runner swept the February caucuses with a nearly 2-1 edge over the establishment candidate, Florida Sen. Marco Rubio, claiming all but two of Nevada's counties. Clark County, home to Las Vegas and most of the state's population, has offered up some of the most vigorous Republican support for Trump. This is particularly true in the suburban neighborhoods that arose on the edges of the desert in the past couple of decades and which, during the 2008 recession, suffered some of the highest rates of foreclosures in the nation.
More than 62% of the Republican caucus-goers in the precinct where Cervantes lives chose Trump. Other parts of Clark County had even higher margins; in northwest Vegas, one precinct went 90% for the real-estate impresario.
Cervantes has been in listening mode this campaign season. With shutters closed to keep out the sun, he watches CNN, Fox and MSNBC and scans political websites, between playing his guitars. All that news, gossip, venom and intrigue —like sawdust off a buzzsaw — has cohered, for him, into a conviction that Trump should be president.
Trump's Republican support in Las Vegas and surrounding communities
Cervantes says he doesn't agree with many of Trump's statements, but he attributes those to a blustery candidate speaking off the cuff.
And, in any case, he likes the bluster. "Even if he screws up, I just want him to shake everything up."
Cervantes was born to Mexican American parents from Texas who moved to Kenosha, Wis. His father worked in the American Motors plant making Nashes, Ramblers and Gremlins.
They spoke Spanish at home, and Cervantes didn't understand English well in grade school; the only Latino in his school, he was taunted as a "dirty Mexican."
He found respite in music and played in bands in high school — and rebelled. Arrested repeatedly for joyriding, he and his best friend spent four months in reform school and were put on probation. The judge told them he would let them off probation if they enlisted in the military, but Cervantes couldn't agree. The one time he had gone hunting and killed a pheasant, he had vomited and felt sick about it for weeks.
"I said, 'I can't go,' " recalls Cervantes. "'I don't think I can shoot anybody.' "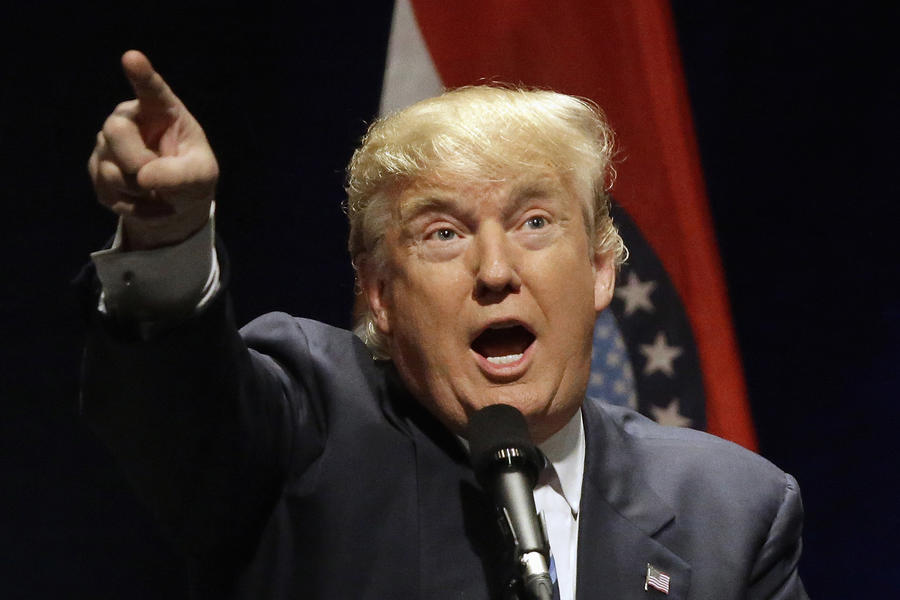 He stayed on probation in Kenosha, and in 1967, got a job in the stockroom at Dynamatic Corp., which made electronic controls for all types of machinery. He got married and briefly joined a band that opened for Buffalo Springfield and The Who. He has the photos with bassist John Entwistle to prove it.
The events of the late 1960s had a profound effect on Cervantes. He despised the Vietnam War. "All they were doing was sending boys into the slaughter."
When Cervantes mentions the day Robert F. Kennedy was assassinated, he chokes up, unable to talk. He says Martin Luther King Jr.'s death was equally devastating.
He and his wife raised three children while he rose up the chain at Dynamatic. He started off making controls that folded diapers for Pampers, then more complex ones. But soon, the company was sending more and more of those projects to Mexico. His union demanded higher wages and better benefits, and staged strikes. After 14 years, he was laid off.
He blames the company and the unions alike.
"The unions kept asking for more and more," he says. "I could have sacrificed a little more to keep the company there."
His marriage was falling apart at the time, and he moved to Los Angeles to try his hand at music and acting, but the West Coast was too expensive and he ended up in Las Vegas.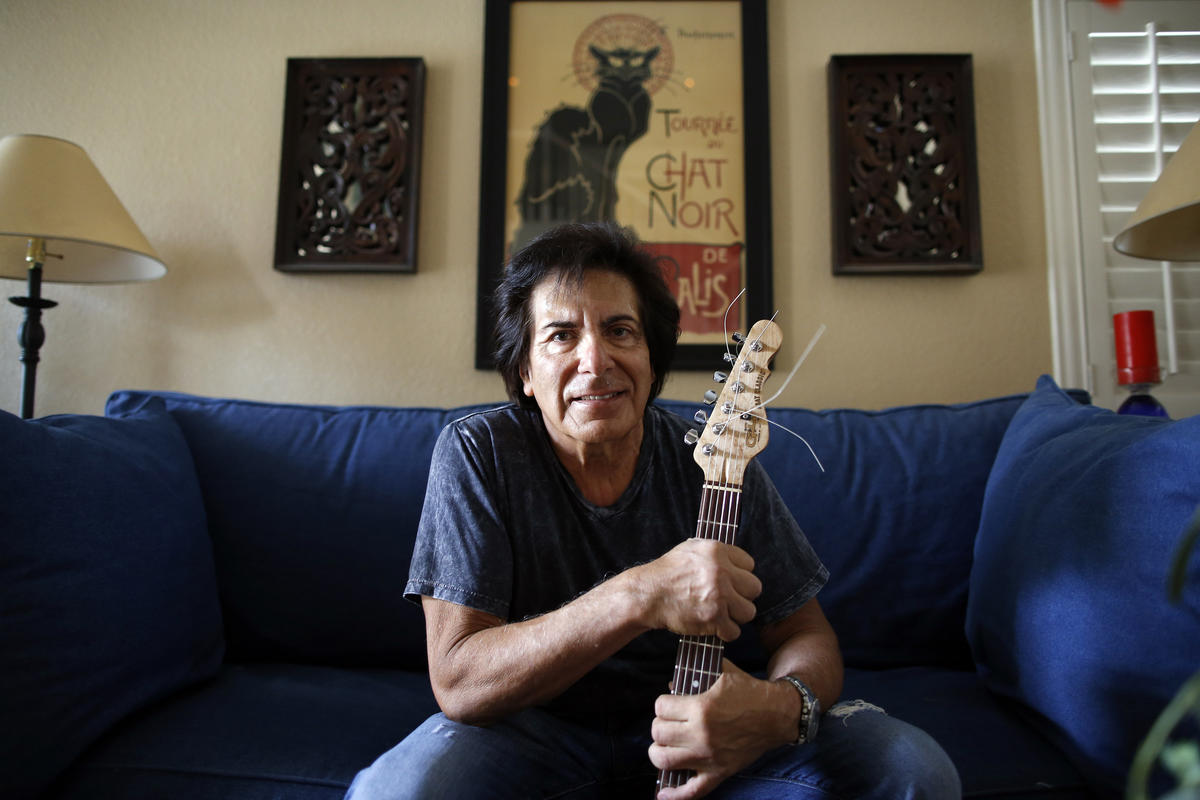 He started selling cars at Friendly Ford. His Spanish helped him deal with Latino customers, and he knew some of them were undocumented. He remembers checking one man's credit, and the Social Security number had "a flag on it."
Cervantes asked him whether the number was good. " 'It better be good,' " he recalls the man saying. " 'I paid $50 for it in L.A.' "
He sold him the car.
After 15 years of working in the desert sun, often wearing a suit, Cervantes was burned out. His hip was failing, and he needed a job inside, where he could sit in air conditioning. It was 2000, and with the housing market humming along, he became a mortgage broker.
He had re-married four years before, and he and his new wife, Sheri, were now expecting a son. Prenatal tests showed the boy had a congenital heart defect, and the child, despite several exhausting surgeries, lived only a few months.
Cervantes was devastated. He had always considered himself opposed to abortion, but he wished they had chosen to abort the child to save him from so much pain.
When the recession hit — and the mortgage industry collapsed — Cervantes went back to selling cars at Desert Nissan. But out-of-town companies had bought up the family-run dealerships, and commissions fell from 25% to 21%, then to 18%.
Sheri's work as an interior decorator dried up, and his commissions couldn't cover their mortgage. They dipped into their retirement to make their house payments, but they were hurtling toward default.
After working for more than 40 years, Cervantes couldn't believe he could lose his home.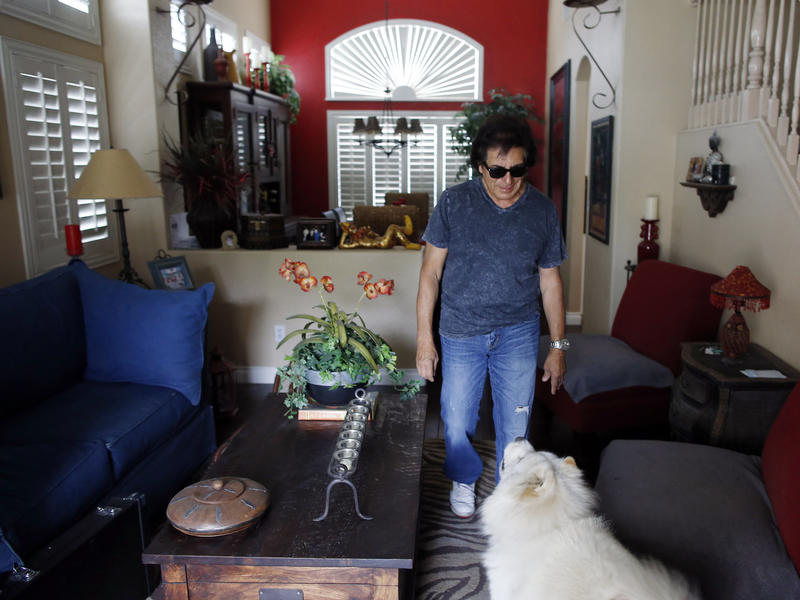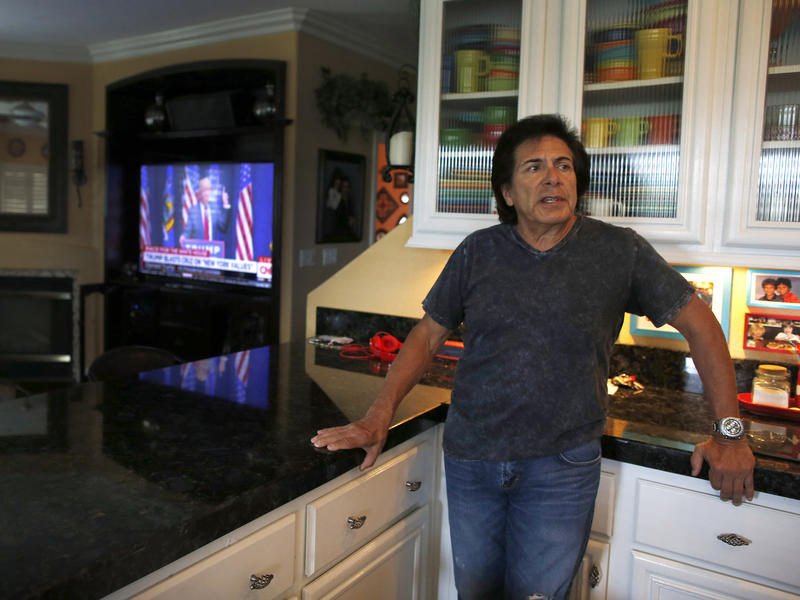 He missed a payment; letters threatening foreclosure arrived in the mail.
Washington had bailed out the banks, but no one in the government was prepared to help him.
"I'll burn this house to the ground before the bank takes it," Cervantes recalls thinking.
After months of pressure, the bank agreed to lower his interest rate. But many neighbors weren't as fortunate. Cervantes' morning walks now parade past a dozen homes that have changed hands. If that has colored the neighborhood's politics, it's been in multiple hues.
Cervantes remains close friends with a Syrian family he and his wife met at the hospital when their son was dying — something he sees not at all at odds with his support for Trump, who has warned that "Islam hates us" and at one point called for barring Muslims from entering the U.S.
"He'd let some immigrants in, but they'd be screened," Cervantes explains.
On one recent afternoon, Cervantes was coming back from lunch at Buffalo Wild Wings with the Syrian couple's 16-year-old son, Remzie Hito.
"Joe! Joe," a friendly neighbor, Jean Goodman, calls to him. A black woman about his age, she wants to ask him about his landscaping.
"I'm getting some ideas because I like the way you got all this," she says.
"I'll snip some of these off and I'll grow 'em and I'll bring them over," he tells her.
They've known each other for years. Goodman says she is supporting Democrat Bernie Sanders — "The Bern," she calls him.
"I can't support someone like Trump. He is too braggadocious. He acts like a kid, and I'm scared he might make that man up there in North Korea mad. This fool, 'Me, me, me. Me, myself and I.' That's all he talks about. But what about the policies?"
"That'll come later; that'll come later," Cervantes says.
"Oh, yeah, right. After they drop a bomb on us."
They chat a bit longer about plants and a yard sale she plans to have.
After she leaves, Remzie asks Cervantes, "Is that true what she said about the bomb?"
"I hope not," he says.
This is part of an occasional series of stories on Donald Trump's rise to frontrunner status in the GOP race, looking at the people who are drawn to his candidacy across the country and exploring the diverse reasons behind his strong appeal.
Times data editor Ben Welsh contributed to this report.
Produced by Lily Mihalik. Graphics by Thomas Suh Lauder.